「仲間と一緒にご飯を食べること」はGaiaxでは、なくてはならない時間になりました。どこで仕事をするか?いつ仕事をするか?時間と場所が自由になった今だからこそ「その場に一緒にいる」ことの大切さに気付かされます。
「組織」という境界線が曖昧なGaiax。「社内」「社外」という区別なく、すべての人がGaiaxCommunityのメンバーです。是非、私たちのコミュニティランチに参加して、新しい出会いを見つけてください。
人と人が集うとき「食事」は重要な要素の1つです。コミュニティランチでは、tiny peace kitchenの家庭的で健康的な食事をコミュニティと一緒に提供いたします。美味しく健康的な食事を囲みながら、「人と人がつながる」そんな時間を一緒に過ごしてみませんか?
Sharing a meal together has become part of Gaiax daily life. Now, that we get to choose where and how we work, it is important to keep the tradition of a regular meeting in a physical space to stay connected to each other and up to date. Since Gaiax borders as a company are no longer defined, we consider everyone part of our community and invite to share our meals together, make new friends and pave the way to new collaborations.
Food is the main ingredient of every gathering so we have partnered with tiny peace kitchen restaurant in providing healthy, balanced home-style meals for our community lunchtime. So come and join us! We want to get to know you!
ランチタイム(12:00-13:00)の時間帯に、Nagatacho GRiD、2F BASE Gaiax Community Loungeまでお越しください。
受付でランチ代をお支払いください。(キャッシュレス決済のみ。現金払いをご希望の方は、直接 tiny peace kitchenレストラン(1F PLAZA)にてお買い求めください)
ご飯、おかず、スープをお好きな量だけよそってください。
テーブルクロスがかかっているテーブルのお好きな席を取ってください。(満席の場合は、近くの空いているテーブルを利用してください。)
周りの人に自己紹介をしましょう!ランチを食べながら、是非近くの方とおしゃべりしてみてください。
Drop by Nagatacho GRiD, 2F BASE Gaiax Community Lounge during lunchtime (12:00 – 13:00)
Pay for the meal at the counter reception (cashless payments only. If you wish to use cash, please buy your lunch directly from tiny peace kitchen restaurant at 1F PLAZA)
Grab a plate and fill it to your liking. Don't forget the soup.
Take a seat at the community table covered with tablecloth (if all seats are taken, use any other available table nearby).
Introduce yourself to people next to you and start from there. Please talk to at least one person during your lunchtime.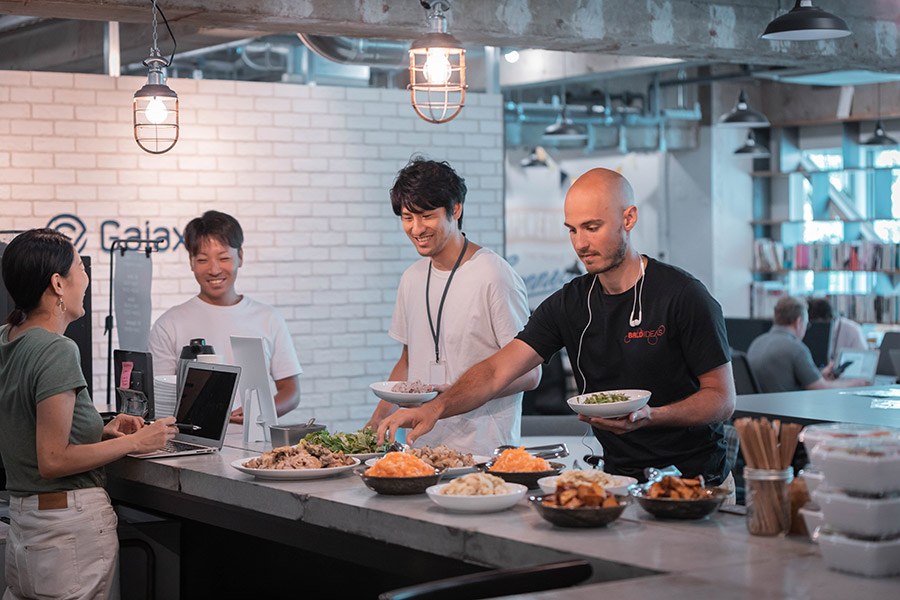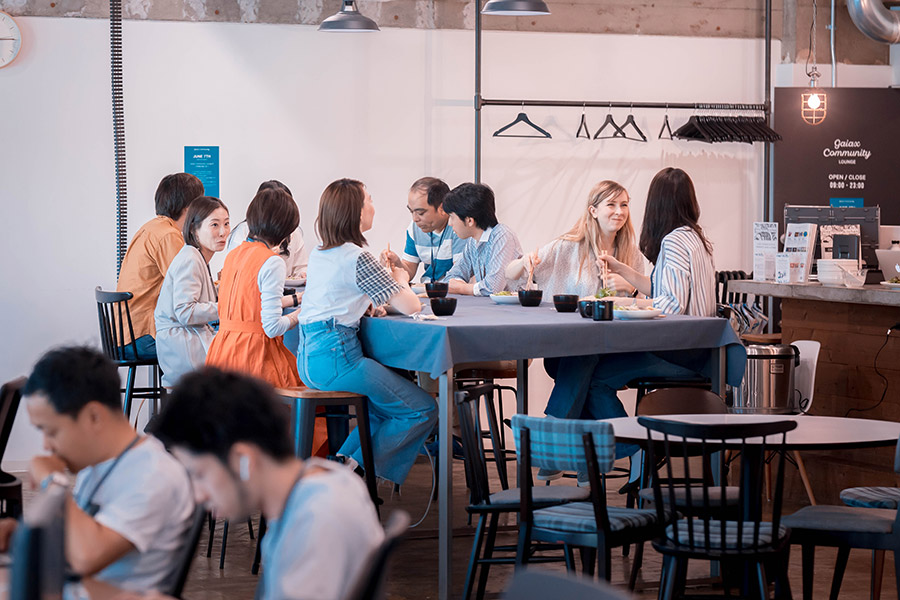 コミュニティランチに参加すると
Gaiaxのメンバーや、Nagatacho GRiDに入居している方に会って、普段どんなことをしているのか聞くことができます
自分の持っているスキル、アイデア、プロジェクトの話をしてみましょう。お手伝いしてくれる人に会えるかもしれません
GaiaxCommunityや無料のシェアスペースの使い方を知ることができます
Nagatacho GRiDで行われているコミュニティプロジェクトについて知り、参加することができます
自分のネットワークを広げたり、友達を作ったり、おいしい食事を楽しみながら沢山の人とつながることができます
By participating in our community meals, you will have an opportunity to
meet Gaiax people and Nagatacho GRiD tenants and learn more about what we do
present your skills/ideas/projects to potential collaborators
learn about Gaiax Community and how to use our free shared spaces
learn about Nagatacho GRiD community projects and see how you can get involved
make new friends and enjoy a delicious meal!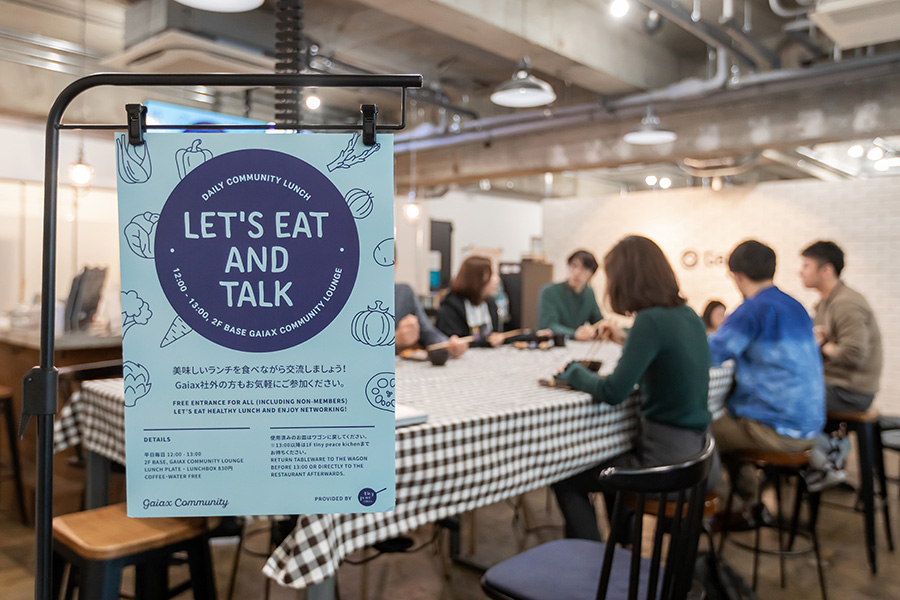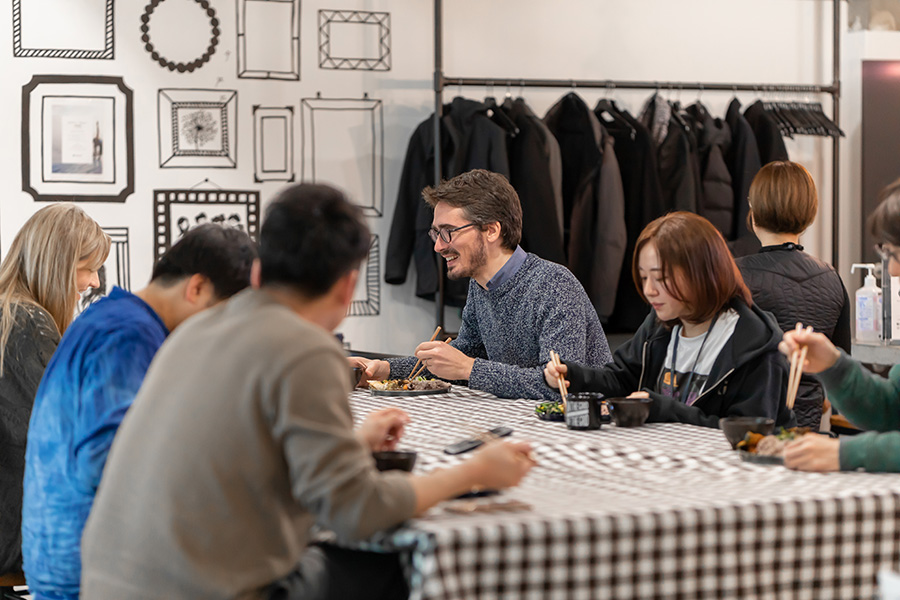 ・Gaiax group従業員
・Nagatacho GRiD入居者
・Gaiax Communityメンバー
・上記以外の方も、どなたでもご参加いただけます
・Gaiax group employees
・Nagatacho GRiD tenants
・Gaiax Community members
・Everyone else
ランプチプレート(スープ付き)・お弁当は830円。コーヒー・水は無料飲み放題。
One plate lunch 830 yen(incld. tax and soup).
Coffee and water are free.
食べ終わったプレート・お茶碗・お箸はトレイに下げて下さい。(13:00以降は、1F PLAZE tiny peace kitchenに戻してください)
コーヒーのマグカップは給湯室で洗ってください。
Return all utensils to the collection tray before 13:00 or directly to tiny peace kitchen on 1F PLAZA after 13:00. Please wash your coffee mug at a utility room in the hallway and leave there to dry.